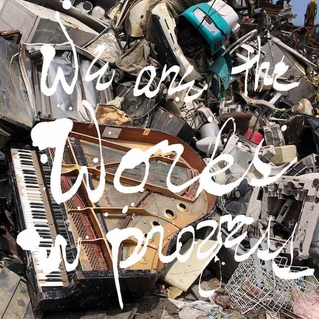 In order to raise funds for Japan in light of the natural disasters that took place there earlier this year,
Blonde Redhead
recently announced a benefit compilation entitled
We Are the Works in Progress
that will feature mostly new tracks from Karin Andersson (a.k.a. Fever Ray), John Maus, Pantha du Prince, Deerhunter, Interpol, Broadcast, David Sylvian and Ryuichi Sakamoto, Liars, Nosaj Thing, Terry Riley, Stalactite, and Kieran Hebden's Four Tet project. Hebden's contribution, "Moma", is available to hear now:
Four Tet - Moma by Four Tet
We Are the Works in Progress
track list:
01 Four Tet - "Moma"
02 Karin Andersson - "No Face"
03 Terry Riley - "G Song"
04 Nosaj Thing - "Nightcrawler"
05 John Roberts - "Berceuse"
06 Blonde Redhead - "Penny Sparkle [Drew Brown remix]"
07 Pantha du Prince - "Bird on a Wire"
08 Broadcast - "In Here the World Begins"
09 Liars - "Drip [Blonde Redhead remix]"
10 Deerhunter - "Curve"
11 Stalactite - "Stalagmite"
12 John Maus - "Castles in the Grave"
13 David Sylvian/Ryuichi Sakamoto - "Bamboo House"
14 Interpol - "Song Seven"